Tecnimodern presents you one of our automatic screwdriving applications
The expertise and the experience of Tecnimodern: A system with outlet pad with low reference position which comes in support on the piece and allows to ensure a constant screwing height, also when the height of the screw changes, and this,whatever the material, wood, plywood, plasterboard,…
With this system, all the screws are countersunk head screwed flush, with no risk of deterioration of screwed plates.
A set for feeding and screwing wood screws, countersunk 4 x 40 mm, for assembly of wooden panel.
This set consists of 2 units of automatic distribution of screwwith type TEC300.BV2 vibrating bowl dual output :
– 1 Control panel equipped with programmable logic controller and screen for the adjustments of time delays
– 1 Station with on/off button, potentiometer vibrating bowl
1 Pneumatic breadboard, with :
-1 Speed valve for air pressure, to make easier the the setting and interventions in safety.
-1 Filter regulator lubrificator with manometer and outlet of dry air and lubricated air.
-1 Pressure limiting valve for the setting flexibility of descent of thescrewing blade.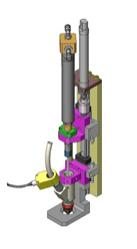 4 automatic spindle screws Titanium type with :
– 1 Carrier plate
– 1 Pneumatic motor with a precision torque limiter with automatic start and engine stop : – Rotation speed : 1400 tours / minute – Adjustable screwing torque : de 2 à 8 Nm
– 1 Speed chuck for setting up the screwing blade.
– 1 Standard screwing blade with print adapted to your screws, dragging 6,35mm.
– 1 Guide rail with two pneumatic cylinders for obtaining a differential movement from the mouth and from the screwdriver blade in the forward and return movements:
– 1 Automatic evacuation of the screws in case of positionning default,
– 1 Completescrewing mouthpiece containing :
– 1 Arrival endpiece with clamp of the hose drive,
– 1 Specific screwing endpiece adapted to screws and pieces,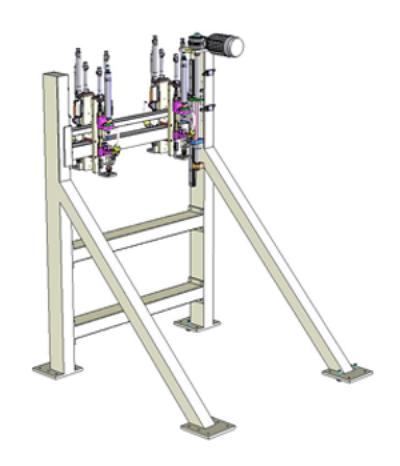 These screwing pins are installed on a gantry with eclectric height adjustment system, to quickly and easily adapt to different heights depending on the product to assemble lines.